The mixture of our team's special ingredients (experience) in classic and contemporary cuisine, sales and marketing, event production and management, training and off-premise catering – serve you the perfect plate: your own unique and lavish event, executed at the utmost intensity.
Love of cooking has been a singularly influential feature of Jonathan Dunn's life since he was a child. Encouraged from an early age to indulge his desire to create in the kitchen, at the age of twelve Jonathan transitioned from years of cooking dinners for his hungry brothers to the more demanding food service industry, where he immediately developed a love for culinary arts and food service.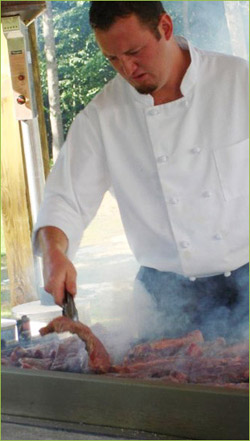 He graduated from the prestigious Johnson & Wales University with his Associates Degree in Culinary Arts and Bachelors Degree in Food Service Management, receiving offers from many of Boston's top restaurants.
Following longstanding relationships with such companies as Napa Valley Grille in Providence (Wine Spectator Award of Excellence), The Catered Affair in Hingham, MA (Boston Magazine's Best Wedding Caterer Award 2001, 2002, 2003), and as Executive Sous Chef at Boston's own 75 Chestnut (Distinguished Restaurants of North America Award), Jonathan decided to integrate his comprehensive knowledge of culinary arts and management into plans for his own venture; Lavishly Dunn, Inc.